Today's Most Versatile Light Measurement Solution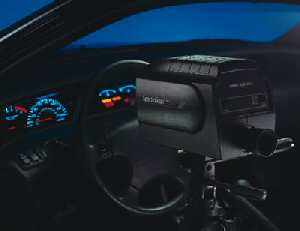 A Shorter Route to Market
Ease of manufacture. Higher quality. Increased reliability. Lower total cost. The mission critical model for today's automated plants and processes.
In light and colour measurement, Photo Research instruments help you complete your mission by combining speed, precision, and accuracy with fully-automated, virtually hands-off operation. In short, helping you bring quality products to market faster.
Lab, Field & Factory Flexibility
The Pritchard™ PR-880 is the first fully automatic filter photometer, A culmination of Photo Research's technical innovation and excellence, the PR-880 is ideal for today's automated factory and ATE/OEM environments.
With an all-in-one, compact design, and weighing only 9.4 lbs, the PR-880 also delivers benchmark performance in traditional lab, field and factory applications.
Automated Ease & Precision
The PR-880 is designed for flawless precision and exceptional ease of use. Every function including multiple-mirror aperture positioning, dual filter wheels, detector zero and viewing system shutters and automated with precise motorised controls.
Onboard microprocessor control - a powerful 16-bit, on-board microprocessor controls all mechanical components, measurements and calculations. Results displayed on the 4 x 20 character backlit Liquid Crystal Display (LCD) enable at-a-glance analysis.
Automatic internal calibration - the PR-880 features automatic calibration using an optically-regulated internal calibration source. The stability of this internal source assures you the utmost accuracy and repeatability.
Built in memory, Save & Restore - the PR-880 stores all operating software, calibration factors, and up to 100 measurements on an internal 512K Integrated Circuit Memory (ICM) card. Standard Save/Restore software and the RS-32 interface support contingent data, software, and calibration factor recovery.
Enhanced Sensitivity
An ultra-sensitive photomultiplier tube(PMT) is featured in the PR-880 enhanced by four ranges of electronic gain(1X, 10X, 100X and 1000X) and four internal neutral-density attenuation filters(10X, 100X, 1000X and 10000X) yielding eight decades of dynamic range for each aperture.
Automatic signal interaction - for extremely low-level measurements, the PR-880 automatically integrated the PMT signal - making it the most sensitive filter photometer in its class.
Push-Button & Remote Operation
Measure light, colour and brightness with push-button ease and accuracy. With eight on-board backlit controls you can actuate every measuring function and every software menu - in seconds.
Remote Mode software - offers easy programming use American Standard Code for Information Interchange (ASCII) commands. All hardware, measurements, data transfer and file operations can be remotely monitored and controlled from any PC (or Macintosh), Mini or Mainframe in any OEM, CAM or ATE environment.
Alignment Certainty
Pritchard™ optics provide superior, non-ambiguous target alignment. Here the measuring aperture, centered in the user's 8.5° field-of-view, and the alignment aperture are one and the same. A 100% non-polarised optical path means even polarised sources, such as LCDs, are measured accurately.
Range & Visibility
The PR-880's range and versatility make it an exceptional value. Variable apertures and the MS-55 objective lens accommodate virtually any target size. For target sizes down to 0.001mm, a variety of microscopic objective lenses are available.
Assured Accuracy
Photo research instruments meet the highest standards of quality and accuracy. Case in point: The PR-880's photopic filter is designed to precisely match the eye's daylight adapted response from 380 nm to 760 nm. Thus, the PR-880 provided the right answer regardless of the source spectral distribution.
Best in its Class
For the versatile light measurement solution offering unparalleled accuracy, precision, and ease-of-use in one, compact, ergonomic package, the Pritchard™ PR-880 filter photometer is clearly the best in its class.
Measurement Capabilities
Luminance


Illuminance (optional)

Luminance Intensity

Colourimetry

Correlated Colour Temperature

L*u*v*

DE*