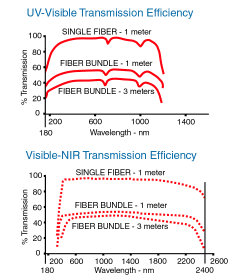 The graphs to the right show the transmission characteristics for fibre optic bundles and single fibre cables. The curves for the bundles have included in the transmission the losses due to packing factor, reflections at the entrance and exit, and the losses within the fibre itself. Please contact us if you need a more detailed explanation or to discuss your requirements.
Please contact us for information on the following subjects:
Individual Optical Fibre Bend Radius
Below is a table of the bend radius for a single fibre of the core sizes listed. Fibre bundle and cable bend radius may be further limited by sheath material, fibre quantity, and length.
Fibre Core Size (µM)

Continuous Bend
Radius (mm)

Momentary Bend
Radius (mm)

---

50

31

12.5

100

35

14

200

61

25

400

120

48

600

165

66

1000

275

110

1500

413

165
Optical Fibre Acceptance Angle
The acceptance angle of an optical fibre is dependent upon the refractive indices of its core and cladding materials. The table below shows the acceptance angle of the most common types of optical fibre:

Fibre Type (Core/Clad)

Numerical Aperature

Full Acceptance Angle

F#

---

Silica/Silica

0.12

13.8

4.2

Silica/Silica

0.22

25.4

2.3

Silica/Plastic

0.39

46.0

1.3

Silica/Plastic

0.48

57.4

1.0

Borosilicate Glass

0.56

68.1

0.9

Plastic (PMMA)

0.55

66.7

0.9